Carpet Flooring in West Sacramento, CA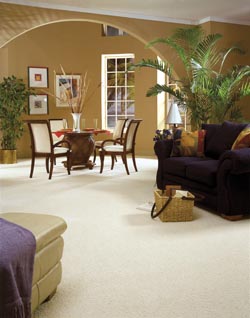 Are you looking to make a substantive change to your interior design? Update the look and feel of your living space with premium carpet flooring in West Sacramento, CA from Capital Flooring & Design. Fitting your room with new carpeting offers a multitude of advantages including nearly limitless design options, reduced ambient noise, and a soft cushioning underfoot to boot. Find the right choice to soften your space when you visit our expansive flooring showroom.
At our local carpet store, we provide our customers with an impressive selection of high-quality carpeting options made by many of the industry's most preferred names. With choices from leading manufacturers like Innovia, Resista, Stainmaster, and Tigressa, we're confident that you'll find a selection that's sure to satisfy. Should you have any difficulty finding the right choice for your project, our knowledgeable specialists are always on hand, ready to help you.
However, our commitment to our customer service doesn't stop after you've found your ideal flooring. Afterward, our dedicated specialists will provide you with a comprehensive carpet installation to ensure every square inch of your new flooring solution is placed as expected. Let our full-service team help you transform your space from something ordinary to extraordinary with carpet flooring that's equally comforting and stylish.
Our Carpeting Options Complement Virtually Any Space
Our trusted associates understand that every home flooring project presents a unique set of challenges. As a result, we make it our mission to take an individual approach to each remodeling project to ensure each homeowner receives the right choice for their space.
From floor coverings made of nylon, polyester, and wool to freize carpets and area rugs, we've got a wide-spanning selection of carpeting options suited for shoppers of every taste. Moreover, with coloring options ranging from creams and greys to rich chocolate shades and wines, we've got something for almost any aesthetic. Visit our carpet store to discover the world of interior design possibilities that rest just inside our doors.
Choose Carpet for Its Ease of Maintenance
While its design versatility can't be understated, many homeowners prefer carpet for its minimal cleaning requirements. Our quality carpets easily endure whatever life throws their way, holding up well in areas that experience a great deal of foot traffic. Keeping your new carpet flooring looking clean and inviting is as simple as sopping up spills with a damp rag and vacuuming them regularly. The next time you look up "carpet near me," – you know where to find us!
When you're ready to augment your home or office space with a colorful, convenient flooring option, visit our fully stocked carpet store to find the perfect combination of padding, pattern, and style that speaks to your design visions.
Contact our specialists to fit your home or business with soft, stylish carpet flooring. We proudly serve home and business owners in West Sacramento, Davis, Woodland, Sacramento, and Elk Grove, California, and the surrounding areas.