Vinyl Flooring in West Sacramento, CA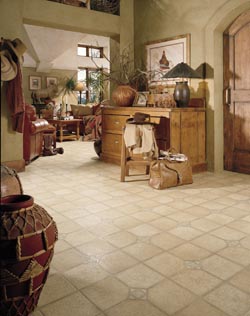 Upgrade to floors that can keep up with your family's busy life--it's easy when you turn to Capital Flooring and Design for beautiful, durable, and long-lasting vinyl flooring. In West Sacramento, CA, our showroom carries a large selection of vinyl floors designed to meet all shoppers' needs. Whether you're searching for wood look floors or something with advanced waterproofing capabilities, we guarantee you'll find something you love at our store.


All About Vinyl
Among the popular flooring materials today, vinyl remains one of the most preferred. That's because it offers the best of performance and aesthetics in one neat package. Unlike many other floor types, it needs little in the way of maintenance. It does not need refinishing, resurfacing, or shampooing--only to be swept and mopped occasionally. Truly, it's one of the least fussy floors out there.
Additionally, vinyl flooring is incredibly durable. It resists chipping, scrapes, dents, and many other types of damage. This makes it an excellent choice for families with energetic pets and kids. It's the kind of floor you can install and forget about, as it won't require much attention at all on a day-to-day basis. Best of all, it's very likely you'll never have to replace it due to daily wear and tear.


Explore Vinyl Flooring
At Capital Flooring and Design, we pride ourselves on carrying a diverse selection of flooring to suit every homeowner's taste. Visit us today to start exploring your options alongside our friendly and knowledgeable showroom staff, who can help you understand what's available and choose a floor that's right for your lifestyle. Here are just a few of the vinyl floors we carry:
Vinyl Tile Flooring. Vinyl tile mimics the appearance of true tile--generally stone. This quality makes it popular with homeowners that want a natural-looking interior design, but don't want to deal with the fuss of real stone.
Vinyl Sheet Flooring. Vinyl sheet is an easy-to-install flooring option that creates a seamless look wherever it's placed. Plus, it comes in waterproof form, making it ideal for homeowners concerned about leaks and flooding.
Vinyl Plank Flooring. This floor imitates the appearance of true hardwood, bringing a natural vibe into your living spaces. Use it where real hardwood can't go, such as bathrooms and kitchens.


Contact our showroom to find out what types of vinyl flooring are available now. We proudly serve residents of West Sacramento, California, as well as those in East Sacramento, Davis, Woodland, and Elk Grove.